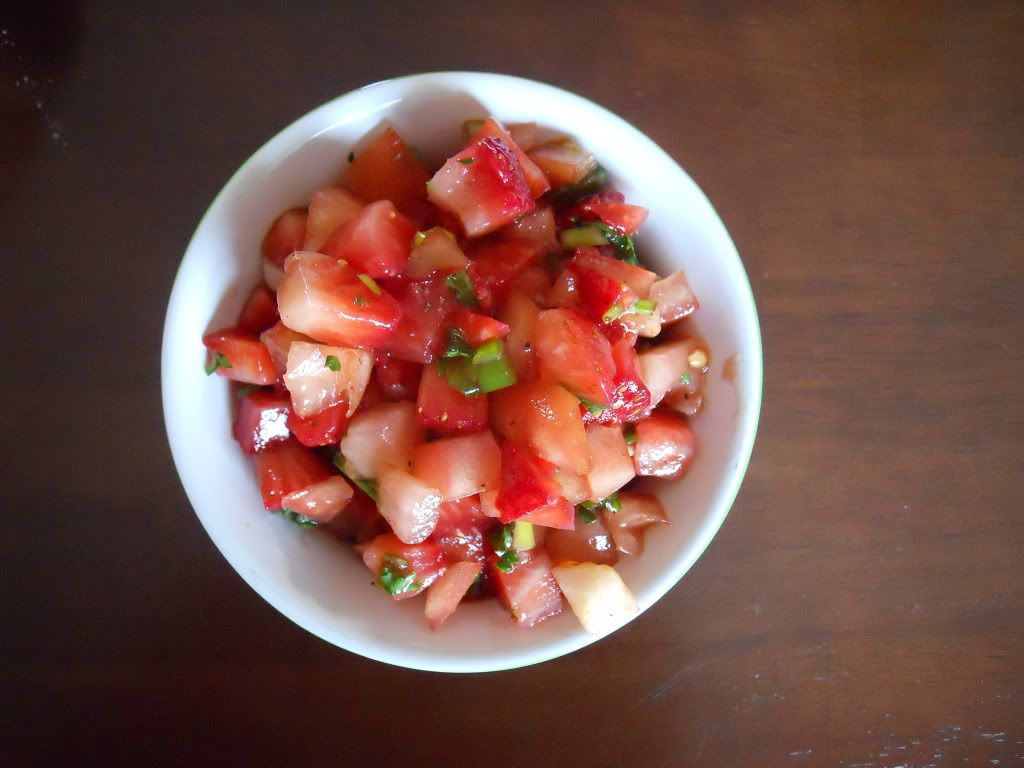 The grocery stores are teeming with ripe, juicy strawberries.
They've been practically jumping into my cart every time I run in for a jug of milk.
(Which, believe me, is a lot more than the average person.)
Consequently, we've been eating strawberries in any and all forms.
On brownies, on pavlova, dipped in whip cream, chocolate sauce and caramel sauce, added to spinach salad and of course eaten straight up.
Hmm... white pants and strawberries might not be a good choice.
My favorite strawberry recipe (so far) has been this salsa. I love the combination of sweet, salty, and tart. It's like a little fiesta going on inside of your mouth.
We ate this on top of baked salmon for an extraordinary dinner. As long as strawberries are in season I'm going to keep this on hand for an easy, healthy snack alongside pita chips.
Yum!
Strawberry Salsa
2 cups fresh strawberries, rinsed, hulled and diced
1 cup cherry tomatoes, quartered
2 green onions thinly sliced
1 tsp fresh parsley, minced
1 tbsp balsamic vinegar
1 tsp fresh lemon juice
1 tsp olive oil
1 tsp honey
salt and pepper, to taste
Note: A nice variation would be swapping the parsley for cilantro, and the lemon for lime juice and adding a bit of jalapeno for spice.
Directions:
1. Combine the all the ingredients in a medium bowl. Mix well, cover and refrigerate for about 1/2 hour to allow flavors to meld. Serve on salmon or with pita chips.