Did you see my post on roasting peppers?
Hmm.... it was there for about a day or so.
And then something happened. It mysteriously disappeared.
I think the internet ate it.
Is there like an internet sewer somewhere? You know I place where postings that have been eaten and then um.... excreted are found?
I'm a little afraid that this awesome cupcake recipe is going to end up in the internet sewer.
It really deserves much better than that.
(It's a good thing I don't have cable or I'd never turn the food network off.)
Please make these cupcakes.
Please give them a chance.
Or if you're in the neighborhood, come over to my house and eat mine so that I don't.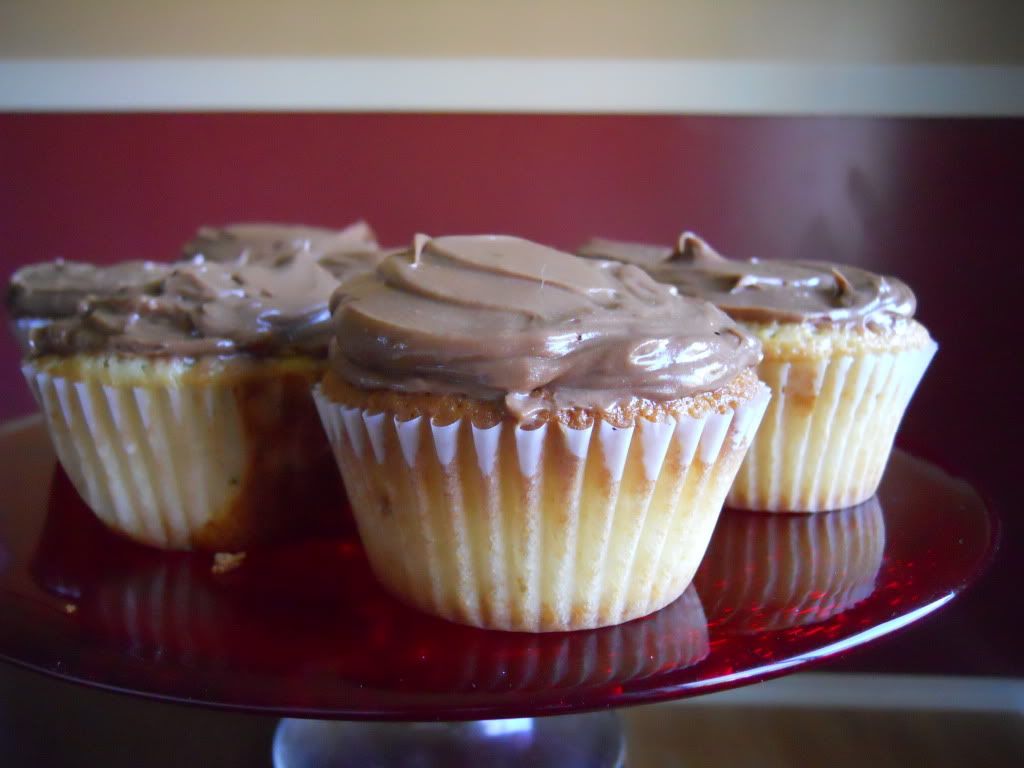 I want to eat them.
I do.
In fact, I can't stop eating them.
But I must!
I have a new bathing suit and at this rate, it'll never see the light of day.
Classic Vanilla Cupcakes with classic chocolate icing
For the cupcake:
¾ cup butter, softened
2 cups granulated sugar
3 eggs
2 ½ cups cake flour
2 ½ tsp baking powder
⅛ tsp salt
1 cup whole milk
1 tsp vanilla extract
For the icing:
¼ cup butter, softened
3 tbsps milk
3 tbsps cocoa powder
2 cups icing sugar
1 tsp vanilla extract
Directions:
1. Preheat oven to 350°F. In a large bowl cream together the sugar and the butter for about 2 minutes. Add eggs one at a time, beating well with after each addition.
2. Sift together flour, baking powder, and salt. Add half of the flour mixture to the sugar mixture, along with half the milk. Beat well, then add the rest of the flour mixture and milk. Add the vanilla and beat again.
3. Put 24 liners into the cupcake pan. Pour the batter into the liners, filling a little more than half full.
4. Bake the cupcakes for about 18 minutes or until lightly browned. Remove the cupcakes and place on a wire rack for about 15 minutes to cool. Meanwhile, make the icing.
5. To make the icing, put the butter, milk, cocoa powder, icing sugar and vanilla into a large bowl and beat until the mixture is very smooth. Ice cooled cupcakes.