These cookies have a little bit of everything in them.
Dried cranberries, toasted pecans, oats and chocolate chips.
Normally, I'm just a straight-up, no frills
chocolate chip cookie
kind of girl but occasionally, very occasionally, I get a hankering for something a little bit more interesting.
Given that yesterday the skies decided to open up and release an ocean of rain on Revelstoke, it seemed like a good day to turn on the oven to restock my cookie supply.
Yes, I am amply supplied with cookies at all times.
I had seen a recipe for
John's Kitchen Sink Cookies
from Martha Stewart that piqued my interest but when I checked it out it had corn syrup in it. I don't know why but it doesn't seem right to put corn syrup in cookies so instead, I settled on this recipe from the Food Network magazine and made a few changes (as always).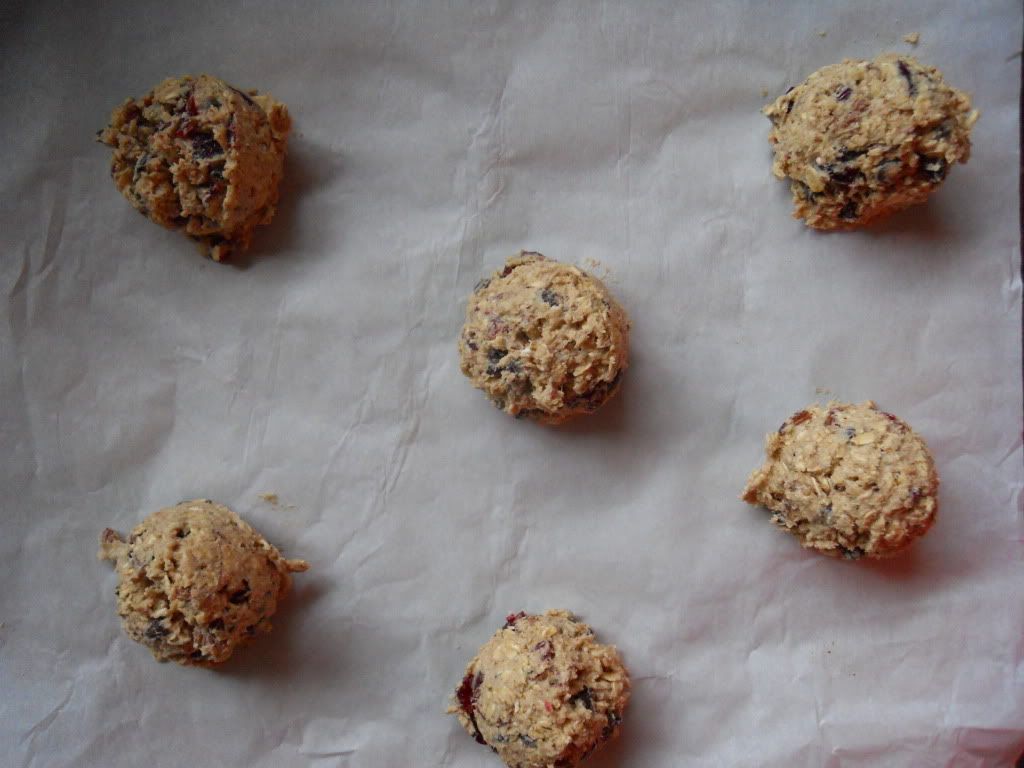 Make these with whatever's in your cupboard, raisins, toffee chips, butterscotch chips, coconut, you name it! Sandwich them between vanilla ice cream for a quick and delicious summer dessert.
Kitchen Sink Cookies
¾ cup flour
½ cup brown sugar
¼ cup white sugar
½ tsp baking soda
pinch of salt
½ cup butter
1 egg
1 ½ cup rolled oats
½ cup dried cranberries
½ cup toasted, chopped pecans
½ cup chocolate chips
Directions:
1
.
Position racks in the upper and lower thirds of the oven and preheat to 350 degrees F.
2. In a small bowl, whisk the flour, baking soda and salt. In a stand mixer fitted with the paddle attachment, cream the butter and light brown, dark brown and granulated sugars on medium speed until light and fluffy. Add the egg and mix on low speed until incorporated. Slowly add the flour mixture, oats, dried cranberries, pecans and chocolate chips and mix until combined.
3. Line 2 baking sheets with parchment paper. With wet hands, make 20 balls from the dough and put on the prepared baking sheets, about 2 inches apart. Press down on the dough balls with the palm of your hand to make flat circles.
4. Bake the cookies until golden and still a bit tender in the center, 15 to 17 minutes. Remove from the oven and let sit on the baking sheets for 1 minute, then transfer the cookies to a rack to cool completely.